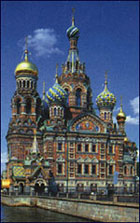 Last week NEW ladies

Feedback
---
Your site definitely works. I have about 500 opportunities to find what I'm looking for - so many letters I have received for 1 month! That doesn't guarantee success. But it gives me a much better chance than I have ever had in the past. I decided to meet one girl in Moscow, so please remove my ad as I want to give it the highest possibility of success.
John (USA)
---
I have to say it is the best site I have come across. I feel you tell the honest truth when it comes to marriage between a Russian lady and a western gentleman. I know a few sites that don't tell the whole truth. some of the claims they made are really out there. For example 1 site has a add on there that reads as follows. YOU'RE 60, SHE'S 20, IS THAT A PROBLEM, NOT TO HER IT WON'T BE. I think that men at that age should really look long and hard into why they think an age difference of 30-40 years would work.
Carl
---

Chernigov Romance Tour
Upcoming Chernigov Tour:
To Be Announced Click here for the reservation form with a complete list of tour dates and prices



Visit Our FULL Ukraine Video & Media Center HERE
Sometimes referred to as the Ukraine City of Brides because it is rumored that the ratio of women to men in Chernigov Ukraine is 8 to 1.
Chernigov is 2 hours north of Kiev and a beautiful ancient city doted with cathedrals, churches, museums and Antonievy monestray caves all adding to historical and archeological significance of the city.
In the center of the city you find the well know "Rampart" as it is the meeting place of those with dating agendas and for meetings. Grab a beautiful Chernigov girl and stroll the Rampart and other avenues of the city as you explore all the city has to offer. The women are friendly and are always available as your insider guide to the local places of interest. You will find all the necessities of everyday life from the sports bar with the big screen, to cinemas, theaters, discos plus restaurants and cafes by which to spend your dating hours. You can always impress the women with your bowling skills or combine a drinking game with your billiards abilities to quickly break down any existing cultural barriers.
If you are visiting during the summer consider a little horseback riding, swimming, rafting or a yacht trip on the river. You are only limited by your time, imagination and the likes and dislikes of your companion.
So take your chance and meet the girl of your dream here in Chernigov!
Russian Brides Cyber Guide

7320 N Dreamy Draw Drive
Phoenix, Arizona 85020
(602) 553-8178
FAX (602) 468-1119

Contact Us



THIS PROGRAM IS THE SOLE PROPERTY OF RUSSIAN BRIDES CYBER GUIDE AND MAY NOT BE COPIED IN ANY WAY OR FORM WITHOUT EXPRESS PERMISSION FROM RUSSIAN BRIDES CYBER GUIDE.

© COPYRIGHT 1996-2023 - ALL RIGHTS RESERVED.