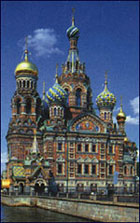 Last week NEW ladies

Feedback
---
Thank you for the time you've taken to put together a good 'Reality Check' for all the nonsense currently surrounding the notion of a Russian wife. While I think that many American men may be attracted to the fantasy of the Perfect Russian Bride (beautiful, young, easy and eager to please), your essays made clear the simple and wonderful truth: Russian women are human beings, with all the glory and tragedy that comes with that condition.
Mark W., USA
---
Your services definitely work! I have been getting 5 to 11 letters a day in response to the ads you took care of for me. I have been communicating back and forth with several ladies. THANK YOU!
Randy (USA )
---
I recommend your web site to anyone looking to meet a Lady from Russia. If they can't meet a Russian Lady through your service they haven't tried.
J. D., USA
---
It is the first time I have seen your WEB site and I was very impressed with what you said about the 'Myths'. I really do agree with your angle on things and I think you understand the dynamics of the whole situation very well. Not only that but I liked what seemed to be your way of thinking about what it takes to make a successful marriage/relationship. It's refreshing to read such things.
Clive, USA
---

Contact Us
Our normal office hours are 8:00 AM to 5:00 PM MST Monday thru Friday (except major holidays).
You may contact us via telephone at (602) 553-8178 during these hours.
You may contact us via email by using the form below. It is our policy to respond to all contact/customer service inquiries as quickly as possible. We look forward to serving you.
For more information, see our Terms & Conditions. Once you are registered (free), you may find ADDITIONAL Terms & Conditions for select services from your member's login page. You may also view our Privacy Policy, General FAQ's, "How it Works" and Express Mail Forwarding FAQ's page for additional useful information.
Enter your message:
(Note: Some email handlers place our emails in the recipient's spam folder.
Please remember to check your SPAM box if you don't quickly see our reply.)

Contact Us



THIS PROGRAM IS THE SOLE PROPERTY OF AND MAY NOT BE COPIED IN ANY WAY OR FORM WITHOUT EXPRESS PERMISSION FROM .

© COPYRIGHT 1996-2020 - ALL RIGHTS RESERVED.