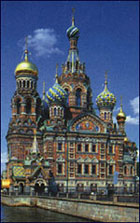 Last week NEW ladies

Feedback
---
I have a couple Russian friends and a few more acquaintances, but no one has been able to give me the clarity about Russian women that I've gotten from your Internet site. You've been able to very succinctly illuminate the women of your homeland in a way that makes them wonderfully human. I can't thank you enough. In future I'll be much more aware of the complex and interesting nature of these remarkable women.
M. K., USA
---
Thank God your site exists! Thanks for your honesty, and opinions.
Wayne, USA
---
Your site definitely works. I have about 500 opportunities to find what I'm looking for - so many letters I have received for 1 month! That doesn't guarantee success. But it gives me a much better chance than I have ever had in the past. I decided to meet one girl in Moscow, so please remove my ad as I want to give it the highest possibility of success.
John (USA)
---
Thank you for an informative and honest site. It's a great relief to finally get some straight information and answers on the topic of Russian-American courtship. Keep up the good work!
Mark, USA
---

Contact Us
Our normal office hours are 8:00 AM to 5:00 PM MST Monday thru Friday (except major holidays).
You may contact us via telephone at (602) 553-8178 during these hours.
You may contact us via email by using the form below. It is our policy to respond to all contact/customer service inquiries as quickly as possible. We look forward to serving you.
For more information, see our Terms & Conditions. Once you are registered (free), you may find ADDITIONAL Terms & Conditions for select services from your member's login page. You may also view our Privacy Policy, General FAQ's, "How it Works" and Express Mail Forwarding FAQ's page for additional useful information.
Enter your message:
(Note: Some email handlers place our emails in the recipient's spam folder.
Please remember to check your SPAM box if you don't quickly see our reply.)

Contact Us



THIS PROGRAM IS THE SOLE PROPERTY OF AND MAY NOT BE COPIED IN ANY WAY OR FORM WITHOUT EXPRESS PERMISSION FROM .

© COPYRIGHT 1996-2023 - ALL RIGHTS RESERVED.