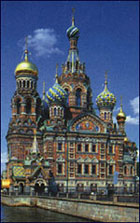 Last week NEW ladies

Feedback
---
I would like to thank you for your comments, they have been a large help for me to understand the Russian woman.
I like to think that the American man that seeks a Russian wife is not a loser in his country but instead has inherited the pioneer spirit that made the bravest Europeans go to a strange country in search of a better life, which is how America began in the beginning and bringing the quality Russian women to the USA can only make our country stronger.
I was in St. Petersburg last July to meet a lady and I just returned from Zaporozhye, Ukraine, both women that I met were beautiful, intelligent, educated and very sincere. For different reasons neither relationship has worked out but I will not give up because I recognize the superior qualities of Russian women and I know that I will find the right one soon.
Richard (Washington, USA)
---
Hello Elena! Please remove my ad from your catalogue and inform the other agencies it was sent to that I am no longer "active" (sorry, couldn't think of a better term). I have had many, many responses to it and still receive approximately 2-3 every week but I have decided to end my search for my soulmate. I am presently corresponding with one very special lady from Voronezh. Thank you so much for your services, your translated letter of introduction was an absolute hit with the ladies and my ad has collected responses from a wide variety of beautiful Russian and Ukrainian women.
Mike (Canada)
---

Lugansk, Ukraine Singles Tour
Upcoming Tour:
To Be Announced

Visit Our FULL Ukraine Video & Media Center HERE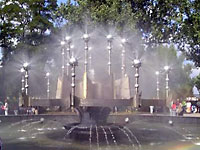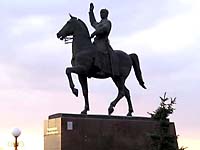 Text written by AFA President John Adams
Finally! The tour city that many of you have been asking about is finally here, Lugansk, Ukraine (coupled with Mariupol). This tour promises to be very special as it is the first time ever that we have done a Tour/Social in Lugansk - the first time in any city is always very special and by definition, only happens once!
I was just in Lugansk in December of 2011 for about a week and I have to tell you that some of the most beautiful women in the world reside in Lugansk. I have been in this business since 1995 and have visited numerous cities from all around the world, but I have to tell you that I was extremely impressed by the women I saw in Lugansk. Just walking down the street, going to the store, or a shop, it didn't matter, there were absolutely amazingly beautiful women everywhere I looked and it seemed as though the women outnumbered the men at least by a 2 to 1 ratio! I sat at one cafe on the main street and just watched as the people walked by - it was like attending an outdoor fashion show, simply amazing. Unfortunately I do not possess the skill or proper vocabulary to adequately describe the experience, this is simply something that you have to see and experience for yourself!
Lugansk is situated in southeastern Ukraine, not far from the Russian border. It is a city of just under 500,000, relatively small by Ukrainian and Russian standards. What it lacks in size it more than makes up for in beauty. Not just the women who inhabit this wonderful city, but the city itself is very charming. There are numerous restaurants, cafes, nightclubs and entertainment centers. One thing I noticed about both the men and women of Lugansk is that they seemed very happy. You can just see it in the way they carried themselves and interacted with each other. There is a small town feel to the city, yet it is large enough to offer everything a tourist would want, and more! Although, speaking of tourists, that is one of the things I also really like about Lugansk, there are not a lot of tourists running around this city. A foreigner here is still quite a unique occurrence. True, you won't find menus in English, nor will most of the hotel staff be conversant in English, but again, you are going there to experience a true Ukrainian city and meet some of the most beautiful women on the planet. I will say that roughly a little less than half of the women at the social will have some level of English, with some being fluent.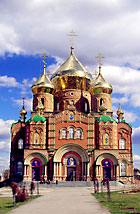 This tour begins in Mariupol which is also a very beautiful city with hundreds of very interested and beautiful women. We will do the first Social in Mariupol, and after a few days move on to Lugansk and conduct the second social there. Mariupol is only about a 3.5 to 4 hour drive from Lugansk. We have done tours to Mariupol in the past and they have always been very successful. You will get the opportunity to meet beautiful, educated women in both cities via the socials and the one-on-one introductions.
This is a really fantastic opportunity for those of you who would like to go on a tour that is somewhat "off the beaten track". There are not a ton of men going to these two cities in search of love, but trust me - the women will be very pleased that you decided to choose their city for your search for that one special person!
Remember, you can't MARRY these stunning women if you don't MEET them! Lugansk is a wonderful destination that you will want to be certain is on your list of tour cities!



THE "ROMANCE TRIP" INCLUDES:
Coach Transport to and from hotel and all AFA events
Accommodations in Central Hotel Mariupol & Lugansk Ukraine
Personal introductions to the 1,000's of available women profiled in our AFA office catalogs
Three fully catered, specific invitation, large Socials
Complimentary interpreters provided at all Socials
Breakfast daily
Three hour city Sightseeing tour
Hotel area and city orientation walking tour
24 hour hospitality and guidance from our American and foreign staff
In-house complimentary interpreting services located in the hospitality room
1 month Platinum Membership ($95.00 value)
Mariupol Romance Tour Details
Romance Tours
Russian Women Tours Latin Women Tours Peru, Latin Women Tours Costa Rica, Latin Women Tours
Ukraine Women Tours

Thailand, Asian Women Tours

Philippines, Asian Women Tours Multiple Cities Women Tours
Russian Brides Cyber Guide

7320 N Dreamy Draw Drive
Phoenix, Arizona 85020
(602) 553-8178
FAX (602) 468-1119

Contact Us



THIS PROGRAM IS THE SOLE PROPERTY OF RUSSIAN BRIDES CYBER GUIDE AND MAY NOT BE COPIED IN ANY WAY OR FORM WITHOUT EXPRESS PERMISSION FROM RUSSIAN BRIDES CYBER GUIDE.

© COPYRIGHT 1996-2019 - ALL RIGHTS RESERVED.