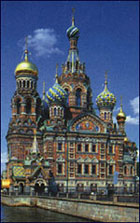 Last week NEW ladies

Feedback
---
Dear Elena Petrova,
I wanted to compliment you on your very fine web site site! I happened to come across your site, because I received an unexpected response to my personals advertisement on the web from a Russian lady, and decided to try to find out more about Russian women and meeting them through the Internet. I must say, that in all of the sites I visited for information about this subject, yours is by far the most well written, informative and helpful. You have covered every important topic that I wanted to know about, and provided very interesting information about other topics I had not even thought of! As the owner of a small company myself, I think it is wonderful that you are able to provide such value to your customers, and (hopefully :-) still make a decent business for yourself in such a fine, ethical manner. The service and information you offer is truly valuable, and I hope that your business, like your marriage, will be richly blessed.
Donald C. (USA)
---
Elena, you have made this whole experience quite enjoyable and actually much easier than I had thought it would be to correspond with and hopefully meet the love of my life. No price is too much to pay for the help you have given me. THANK YOU!!
John (USA)
---

THE HOSPITALITY SUITE
As part of our commitment to provide you with the very best customer service possible, a hospitality suite will be hosted in your hotel for the entire duration of your stay. This suite will be housed with at least one bilingual customer service representative whose sole function is to take care of any needs you may have. Whether it is sending a telegram or trying to contact one of the many beautiful women, the representative is there to assist you.

You will also find hard-bound catalogs containing all the profiles of the women who are members of our service in that particular city and its surrounding area. You are welcome to go through these catalogs as often as you wish, we will assist you in contacting any of the women you would like to meet. We can invite them to upcoming socials or do one-on-one introductions. You will find many profiles contained in these catalogs which are not currently on our Internet site or in the bimonthly magazine. However, these women are still very much interested in meeting that one special person whom they can share their lives with.

Depending on the city, you may also find free Internet access located in the Suite as well.

The hours of the Hospitality Suite are 9 A.M. to 7 P.M., however, there is normally staff in the hotel on a 24-hour basis to assist you.

The Hospitality Suite was pioneered by us and is just another way that we substantiate our claim that we provide the most complete and unparalleled customer service in the industry today.
Russian Brides Cyber Guide

7320 N Dreamy Draw Drive
Phoenix, Arizona 85020
(602) 553-8178
FAX (602) 468-1119

Contact Us



THIS PROGRAM IS THE SOLE PROPERTY OF RUSSIAN BRIDES CYBER GUIDE AND MAY NOT BE COPIED IN ANY WAY OR FORM WITHOUT EXPRESS PERMISSION FROM RUSSIAN BRIDES CYBER GUIDE.

© COPYRIGHT 1996-2019 - ALL RIGHTS RESERVED.